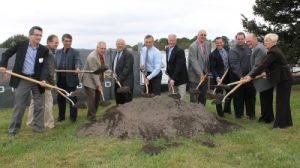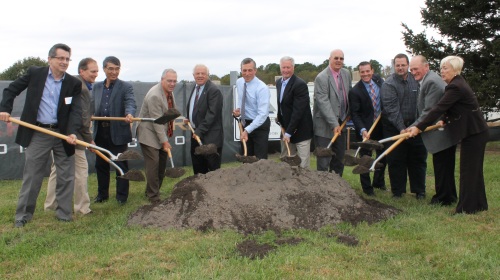 DAGSBORO, Del. – Allen Harim, a leading producer and processor of No Antibiotic Chicken on Delmarva, officially broke ground on Wednesday beginning the construction phase of a new $22 million state-of-the-art hatchery on Delmarva.
Governor John Carney joined the groundbreaking, and thanked the company for continuing to invest in Delaware. Other dignitaries included Sen. Gerald Hocker (R-20th), Rep. Rich Collins (R-41st), Rep. Dave Wilson (R-35th) , and Rep. Ruth Briggs King (R-37th). Sussex County Council President Michael Vincent and Councilman Rob Artlett also attended, along with Dagsboro Mayor Brian Baull.
The new 70,000 square-foot facility will be built on the company's 19.84-acre site on Nine Foot Road in Dagsboro. It will have an egg-set capacity of 2.5 million eggs per week. Using water reuse technology, up to 80 percent of the water used at the hatchery will be recycled. In addition, all wastewater will be disposed of using spray irrigation on land currently owned by Allen Harim.
"This is an exciting moment for this company and a significant investment for our company on Delmarva," said President and CEO Joe Moran. "Our No Antibiotic Ever chicken requires us to have the healthiest and strongest chicks right from the start, and this new hatchery will ensure that. This facility will be energy efficient, environmentally friendly, and the most technologically-advanced hatchery on Delmarva."
The Dagsboro hatchery was built in 1973 by Cargill, and was purchased by the former Allen Family Foods in 1988. The 38,000-square-foot facility is being used as the backup hatchery for the company, due to the age of the equipment and the infrastructure. The new building's footprint will encompass the old structure, and require all new equipment and systems throughout.
It will take about a year to build, and once it is operational, the company will close its main hatchery in Seaford. Employees at both facilities will be offered jobs at the new hatchery or at other Allen Harim operations.