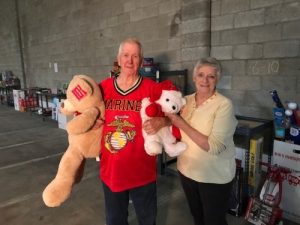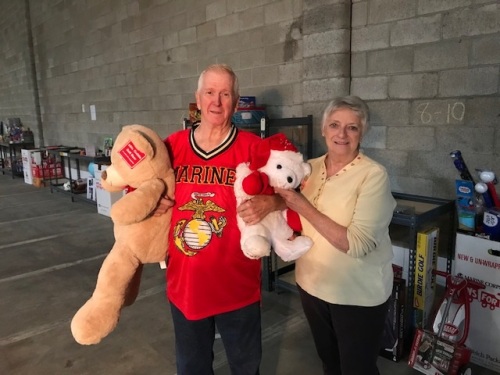 MILLSBORO, Del. – Christmas may be well over a month away, but a warehouse in Millsboro owned by Allen Harim is already looking a whole lot like Santa's workshop.
For the second year in a row, Allen Harim is hosting Toys for Tots in Sussex County, providing space for volunteers to collect, sort, and give out toys for needy children from now until Christmas.
Ted Bennicoff is coordinator of the Sussex County chapter of the national Toys for Tots campaign, which started 70 years ago with the Marine Corps Reserves collecting new toys so every child would have a present at Christmas. Ted, a Marine Corps veteran who was wounded three times in Vietnam, has been involved for the past 18 years, and remembers when the group worked out of a 12×12 shed.
"This is the best place we've ever had," said Lydia, his wife of 50 years. "It's a perfect space for us."
She's referring to empty warehouse space at 29984 Pinnacle Way in Millsboro, the former Vlasic pickle plant. Allen Harim purchased the property in 2014 and has been using it as a warehouse space ever since.
Allen Harim Senior Director of Operations Everett Brown heard on a local radio station last year that the non-profit was looking for new space and reached out to offer the Millsboro facility. "I was just so happy to help out because I really believe in the cause," Brown said. "It's been a pleasure to work with these folks and help ensure the program continues."
The secure warehouse has shelves of toys lined up and organized by age and by sex that have been donated by individuals and businesses. Collection boxes are set up at 20 different locations across Sussex County and about 30 active volunteers help pick up the toys, drop them at the warehouse, and package them for families who come and pick them up. Businesses also make donations, and drop off the toys at the warehouse.
Last year, the Sussex County chapter served 12,000 children, ranging in age from newborn to teenagers. They expect to exceed that number this year.
"There is a real need," Bennicoff said. He encouraged families that are interested in participating to register through the website: www.toysfortots.org. Toys will be distributed until December 20th.
Donations are always welcome. They are currently in need of toys for boys and girls ages 8-10 and 11-14, and also for newborns and toddlers.