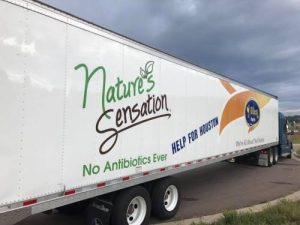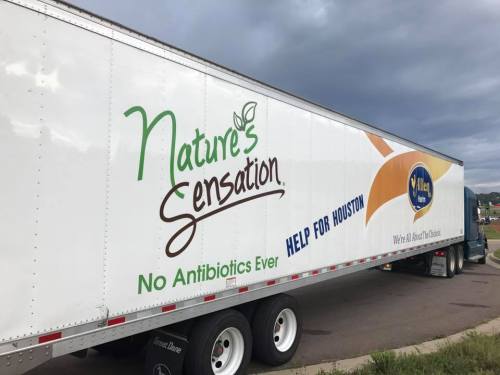 SEAFORD, Del. – August 31, 2017 – Those impacted by Hurricane Harvey will soon have some Delmarva chicken to feed them — 40,000 pounds to be exact.
On Thursday, Allen Harim began driving a truck full of the fresh chicken to Houston. It is set to arrive Saturday. The donation is in partnership with Operation BBQ Relief– a non-profit that feeds people during natural disasters.
"They mobilize in disasters and have smokers and grills and they cook," says Allen Harim Director of Public Relations Cathy Bassett. "They cook for first responders, they cook for volunteers, they cook for victims and survivors and everybody impacted by this storm."
Bassett says her company was called to act after seeing footage of Hurricane Harvey.
"We all watch the news. We feel in our heart how awful it must be," she says. "So one thing we can do is bring some chicken."
Alongside Bassett is driver Ronald Ringgold. He's worked for Allen Harim for 19 years and didn't hesitate when he was asked to drive this donation.
"I said yes from the get go," he says. "I have never been into Texas so this is a lifetime thing for me."
Ringgold and Bassett will stay in Texas until Tuesday volunteering.
"I'm just glad to take this load," Ringgold says. "[I'm] excited to help out."
The truck should reach Texas by Saturday.