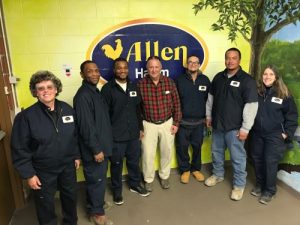 SEAFORD, Del. — In the first full year of operation with an upgraded wastewater treatment plant, Allen Harim's Harbeson processing plant has achieved 100 percent compliance with all discharge parameters listed in the NPDES permit, the company announced this week.
Allen Harim spent more than $8 million on Phase 1 of the treatment plant upgrade which was finished in late 2016. The new technology has been working so well that some of the parameters the company is required to test for produce results that are below their respective detection limits. The company is required to submit a monthly Discharge Monitoring Report to DNREC detailing all testing results.
"This is proof that our investment has been worth it and I'm so proud of our team for their hard work in ensuring a perfect record," said Joe Moran, President and CEO of Allen Harim. "Our next step of removing our treated effluent from Beaver Dam Creek and piping it to Artesian for land application will be an even better environmental outcome."
The Phase 2 part of the project involves a partnership with Artesian Wastewater Management, Inc., an expert in wastewater issues. Construction permits were issued by DNREC last fall, and Artesian is building a pipeline from Allen Harim to their Northern Sussex Water Recycling Facility north of Milton, Del.
From there, Artesian will use the water for spray irrigation on agriculture land where crops need nutrients to grow. Using recycled water to irrigate crops helps save groundwater, and saves farmers from having to buy chemical fertilizers to add nutrients to the soil.